Dell Latitude 5400 Review: Exceptional But Not Attractive Choosing the right laptop is not so simple because there is a huge competition on the market. Therefore, you should consider your preferences, needs, and features of different models in a desired price range.
The Dell Latitude 5400 is a business laptop that is popular for its performance and features, especially when considering its price point. The following review will provide more details about this model.
Design and Build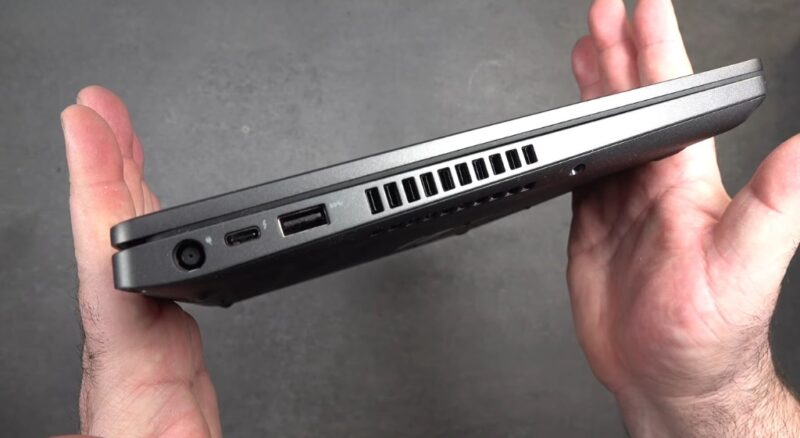 The Latitude 5400, despite being a more budget-friendly alternative to the Latitude 7400, also has a carbon fiber construction. This not only gives it a premium feel but also contributes to its durability.
The laptop's design incorporates 16.96% of post-consumer recycled material, which is a well-known feature of the XPS series. Weighing in at 1.48 kg and with a profile of 19.6mm, it's relatively portable.
The lid can be opened with one hand, although the hinges are slightly stiff. The design also features a significant top and bottom bezel, which house the Dell logo and the optional IR face recognition system, respectively.
Dell's approach to the Latitude 5400's design is conservative. It can be described as a simple office tool, but with a hidden strength. Its classic appearance won't draw attention in an office setting just as it won't gain compliments from colleagues.
While this series is known for keeping the same design for years, we can notice some changes in this one, such as the slate-gray plastic chassis with a chrome Dell logo stamped onto the center of the lid.
On the deck, we can see the same plastic material, which feels sturdy but far from premium. The bezels are relatively thin, although the top edge is thicker because of the camera. It may be a less attractive solution, but it is quite functional.
Pros
Carbon fiber construction for durability
16.96% post-consumer recycled material
Portable and lightweight (1.48 kg)
One-handed lid opening
Durable construction
Cons
Conservative and uninspiring design
Stiff hinges
Not a standout in terms of aesthetics
Utilitarian appearance
Display
There are three screen options available: a 768p TN panel, a 1080p IPS panel, and a 1080p IPS touchscreen display. The Full HD IPS panel, in particular, offers a good contrast ratio and comfortable viewing angles.
However, its color coverage is modest, making it less suitable for web designers. On the bright side, the display doesn't use PWM to adjust its brightness levels, which is a plus for eye comfort.
The 14-inch, 1080p matte touch screen is dim and not very colorful, although it doesn't necessarily need to be; If you're dealing with spreadsheets or creating slides, this detailed screen will do just fine.  The screen's matte finish reduced reflections but the panel looked a bit dim, even with the brightness turned all the way up.
Performance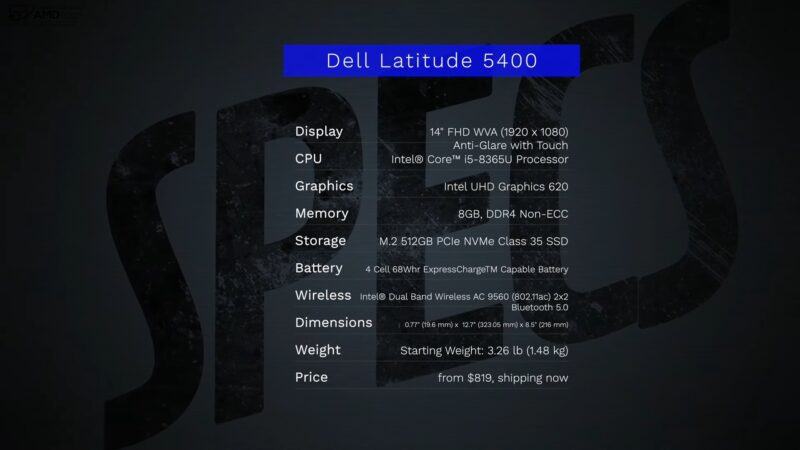 For most users, the hardware is the most important part. We can say that the selection related to this series is quite decent, and you can choose between Core i3-8145U, Core i5-8265U, and Core i7-8565U.
Users can also opt for the vPro versions of these CPUs for enhanced security features. In terms of graphics, the laptop primarily comes with the integrated Intel UHD Graphics 620, but there's an option to upgrade to the AMD Radeon RX 540X.
The performance is impressive. The laptop had no problems loading 15 Google Chrome tabs, two of which played 1080p videos while another pair streamed full-HD uploads on Twitch and Mixer.
With a score of 15,307 on the Geekbench 4 overall performance test, the Latitude 5400 nearly matched the ThinkPad X1 Carbon (15,649, Core i5, 8265U) and the premium laptop average (15,726) but proved as better than the TravelMate P6 (13,402).
Pros
Impressive real-world performance
Efficient multitasking capabilities
Responsive and smooth operation
Optional AMD Radeon 540X GPU for enhanced graphics
Cons
Not suitable for heavy gaming or specialized task
Limited graphical prowess for complex 3D rendering
Battery Life
Depending on the configuration, the laptop can come with a 42Wh, 51Wh, or a massive 68Wh battery. In tests, the 68Wh battery version managed to achieve 17 hours of web browsing and 18.5 hours of video playback, which is impressive for a business laptop of its class.
With a runtime of 13 hours and 19 minutes on the Laptop Mag battery test (which involves continuous web surfing over Wi-Fi at 150 nits), the Latitude 5400 lasted longer on a charge than the ThinkPad X1 Carbon (9:30), the TravelMate P6 (7:34) and the category average (8:25).
Speaking of battery life, have you ever ended up in dire need of more battery life for your laptop? If so, check out this video and learn how to prolong the battery life allowing you to get more work done:
Audio and Multimedia
The device is equipped with stereo speakers that deliver a surprisingly robust audio experience for a business laptop. While it may not replace your dedicated external speakers or headphones, the built-in speakers produce clear and distortion-free sound at moderate volumes.
Therefore, it can serve perfectly during a video call, while watching a presentation, or just relaxing with some music during a break. For professionals who often engage in video conferencing or multimedia presentations, the Latitude comes with a 720p HD webcam.
This camera, combined with the laptop's integrated microphones, ensures clear video and audio transmission during virtual meetings.  There is also support for Windows Hello, allowing users to log in using facial recognition, adding an extra layer of security and convenience.
Security Features
It is common for the most recent models to offer various impropvements that will keep you safe online. This one comes with a TPM 2.0 (Trusted Platform Module), which provides hardware-based security to protect data encryption keys, credentials, and other critical data.
For those who require an additional layer of security, Dell offers optional features such as a fingerprint reader integrated into the power button. This ensures swift and secure access to the device.
Additionally, there's an option for a smart card reader, which can be crucial for businesses that use smart card-based authentication.
FAQs
Can the Dell Latitude 5400 handle graphic-intensive tasks like 3D modeling or high-resolution video editing?
While the Dell Latitude 5400 is equipped with decent graphics capabilities, especially with the optional AMD Radeon 540X, it's primarily designed for business tasks. For heavy graphic-intensive tasks like 3D modeling, it's recommended to use a dedicated workstation or a laptop with a more powerful GPU.
Does the Dell Latitude 5400 come with any pre-installed software or business tools?
Yes, the Dell Latitude 5400 often comes with Dell's suite of business tools and software, including Dell Optimizer, which enhances system performance, and Dell Command Suite for system management. However, the exact pre-installed software might vary based on the region and configuration.
Can the Dell Latitude 5400 be used with Dell's docking stations for an enhanced desktop experience?
The Latitude 5400 is compatible with a wide range of docking stations, allowing users to connect multiple peripherals, external displays, and other devices for a comprehensive desktop experience.
Conclusion
The Dell Latitude 5400, which represents a combination of performance, durability, and security, is a decent choice in the business laptop market. Its multimedia capabilities and focus on user experience are some of the main reasons to consider buying it.
It is perfect for corporate professionals, freelancers, or entrepreneurs as it is capable of providing the right performance for everyday tasks. It is unlikely that you will encounter power button problems with your laptop, especially a new one. As said, while unlikely, it is still possible. In times of need, you must know what to do and how to go about that problem. We recommend you check out our expert guide and learn how to bypass the laptop's power button so you can get back to your tasks in no time.